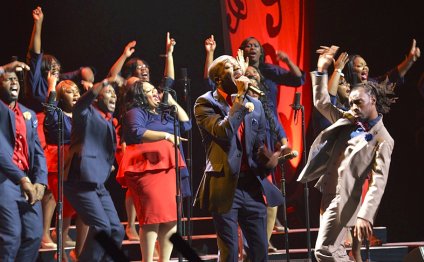 Best Gospel Choirs
"Voices from many faiths rise together in Oakland choir" excerpt
Kelly is talking to a group that's something of an anomaly when it comes to gospel choirs. This one is made up of black folks and brown folks and white folks. He's talking to Baptists and Catholics, to Jews and agnostics, to Hindus and Wiccans.
"Lifestyles, backgrounds, races, creeds, likes, dislikes, " he says later, "we're all mixed up."
This year the choir celebrates a milestone. On Dec. 5, it will perform its 30th holiday concert. Three decades is an accomplishment for most any organization, but it's especially important for a choir that many doubted would survive a year.
Kelly has a shaved head and a long goatee (sometimes he'll twist it up and tuck it away). His ears are pierced, and the night of practice he wears a choir T-shirt. On the back it reads, "30 years inspiring joy and unity." He's kind, but he doesn't pull punches either. "I need spirit. Quit giving me mashed potatoes without butter and salt. At least give me some chicken stock." (Not long ago, the choir got together and made him a list of what they call "Terrance-isms.")
Kept it all together
In some ways, Kelly and the choir are one and the same. He was there at the beginning, and he's there now. "I really believe — really believe — he's been the anchor or the pillar of the success organization, " says Mark DeSaulnier, who handles the finances as the executive director. "It's gone through some very highs and very lows. It's run the risk of closing doors. It's been through it all. He has stayed through it all. That's rare."
Talk to most anybody, and they'll tell you he's the reason any of this works. With Kelly, says Sharon Hymes-Offord, a member for four years, "the walls sing. The paint on the walls sings. He brought sounds out of my body that I didn't even understand existed. He brings that out of all of us. He is a master at what he does."
"There's a strong spiritual connection with the audience in concerts and with the congregation in church settings — a back and forth of energy that builds up, " says Ben Heveroh, who plays the piano and organ for the choir. "Terrance is a master of building that energy. It can be a delicate craft."
Ryan Kost
San Francisco Chronicle
November 26, 2015
"Nevertheless, this prelude could not possibly prepare me for what came after the Oakland Interfaith Gospel Choir with their live band came on the stage. Their cunning entrée executed by joining on the song ... while walking down the church lane towards the stage, caught the audience by surprise. Their first song – Lord, How Come Me Here? – caught the audience by their hearts. Sitting in the front row, I could not hold the tears in any longer. The music was not resonating in the church anymore, it was resonating deep in my soul."
Krystof Diatka
"Human Voices Made the Church Go Wild"in response to Molde Jazz Festival performance
"Sunday afternoon at the Dance Palace was toned down shades of an old time revival, if you can picture an event like this in usually staid West Marin. The audience, many festooned in robes from choir robes to kimonos to bathrobes, packed the venue to hear this small ensemble of 13, the pick of the litter from the larger East Bay group of 55."
Ellen Shehadeh
"Oakland Interfaith Gospel Choir Brings Audience to Its Feet"

Holiday pop 2013: Oakland Interfaith Gospel Choir sings for the holidays
Terrance Kelly is a man of great passion and conviction. Those qualities have served his Oakland Interfaith Gospel Choir well. Since cofounding the organization in 1985, Kelly has showed near-limitless energy and dedication in helping turn Oakland Interfaith into one of the world's top gospel choirs.
"Some people say I'm ambitious, " Kelly once told me. "I just say I want what God has for us."
The choir's accomplishments include winning an Emmy Award in 1995, appearing on three Grammy-winning albums, performing with such stars as Linda Ronstadt and Lyle Lovett and touring the globe. Terrance Kelly and the Oakland Interfaith Gospel Choir bring their holiday show to San Francisco, Oakland and San Francisco in December. Courtesy of Oakland Interfaith Gospel Choir
Yet, the choir is always home for the holidays - to the delight of its many fans. The group's annual December concerts are a cherished holiday tradition in the Bay Area, every bit as important as "The Nutcracker" and "A Christmas Carol."
The choir performs its 28th annual Holiday Concert at the Paramount Theatre in Oakland on Dec. 7; as well as its South Bay Holiday Concert Dec. 20 in Mountain View and its annual Christmas Eve shows at Slim's in San Francisco.
YOU MIGHT ALSO LIKE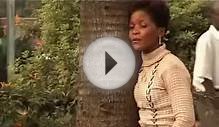 AIC SHINYANGA- KAA TAYARI [BEST TANZANIA GOSPEL CHOIRS ...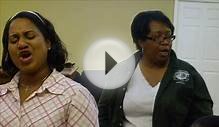 Rehearsing for our Live Recording - Best Gospel Choir in ...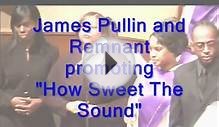 (Best Gospel Choir in Atlanta) "How Sweet The Sound" with ...
Share this Post
Related posts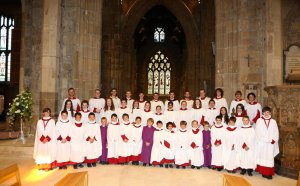 SEPTEMBER 29, 2020
He began his musical career as a treble chorister in Sheffield Cathedral Choir, under the direction of Neil Taylor, who was…
Read More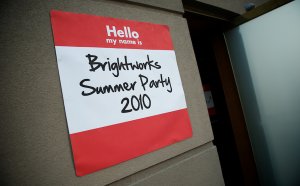 SEPTEMBER 29, 2020
Pray , the latest offering from six time Grammy Award winning Brooklyn Tabernacle Choir was recorded live at The Brooklyn…
Read More