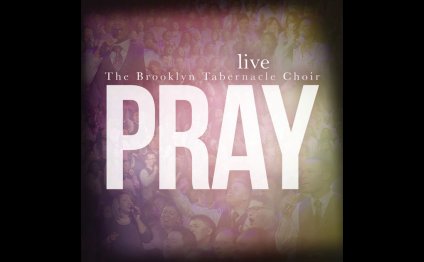 Praise Him Brooklyn Tabernacle Choir
Imagine for a minute that you've been given charge of a small group of people—a melting pot of humanity from all walks of life. As time goes by, this small group expands to 100, 200, 300. Teachers, janitors, store clerks, restaurant servers. Ordinary people who work long hours, raise their children and whole heartedly to serve the Lord. As some move on, others arrive to replace them. Over the next 30 years, almost every Friday night and all day on Sundays, you're going to love them, pray with them, and teach them how to sing (and to live) out loud and with passion.
In many respects, this has been the life of Carol Cymbala, director of the world famous Brooklyn Tabernacle Choir. A pastor's wife, with a heart (and incredible ear) for music, Carol started the choir in the '70s, as an extension of her husband's church ministry. Thirty+ years, 22 albums, 4 million in sales, and 6 Grammys later, the Brooklyn Tabernacle Choir is one of the most recognized and certainly the most awarded choir today.
Now, with the follow-up to the Grammy-award winning project, Live: This Is Your House, Carol Cymbala and the Brooklyn Tabernacle Choir are back with I'm Amazed... Live, the most musically diverse recording in BTC history.
"I'm Amazed... Live is the most eclectic project we've ever done, " Carol Cymbala says of this highly anticipated live recording. "There's something here for everyone: black gospel, southern gospel, praise and worship, classical music… but more important than style, when a song blesses people, you don't really care what kind of music it is. You've got all these different worlds coming together… but I think the more you see Jesus, the more you see the world, the more you want to reach out to everyone…. We have a very diversified congregation, people from Trinidad, Korea, Japan, Jamaica—people from all over the world—but they all love these songs and have been blessed by them. That's basically how we choose songs for our recordings, by seeing how people respond to them."
With special solo performances by Donnie McClurkin, Jason Crabb (The Crabb Family) and Luther Barnes (The Barnes Family), I'm Amazed... Live features 11 songs (and one worship medley) that declare the greatness and glory of God and the power of the Gospel to change lives.
From the theatrical, stirring opener, "Thou O Lord, " which declares God as "my glory and the lifter of my head, " to the rolling, bi-lingual "Gloria, " an upbeat, modern arrangement you'll find yourself singing all day, I'm Amazed... Live shines with a seamless, yet multi-faceted collection of worshipful anthems. Jason Crabb delivers the rousing, soulful title track with the power of a tent-revival preacher, while Luther Barnes follows him with the tell-it-like-it-is "Heaven On My Mind, " ushering in the rollicking gospel strains of "Hallelujah Anyhow."
"I Bless Your Name, " a worshipful call and response and "King of Glory, " a sweeping ballad of cinematic proportions that Carol wrote after a moving day of prayer at the church, lead into Luther Barnes' southern-gospel-meets-traditional-gospel blend of "God's Promise, " a song about trusting that "everything He said, He will do." "High and Lifted Up" weighs in with the signature powerhouse BTC sound, while "The Light of That City" and "Heaven on My Mind, " sing in expectation of the ultimate worship gathering. The reverent crescendo of "Worship Medley" marries "I Love to Worship You" with "Holy Is The Lord" for an intimate moment of true worship that can be felt as much as heard. Donnie McClurkin's one-of-a-kind voice shines in the commanding "Song of Moses" that rounds out the project, declaring, "Who shall not fear Thee, O Lord… for Thou alone art holy, and we glorify Thy name!"
The title track "I'm Amazed" came to Carol after a rare weekend speaking engagement before an audience of choir directors. "I thought I had about 30 minutes to speak, but it turned out to be more like two hours, so I began to share with them how a choir was more than singing just to be singing, how we're suppose to reach out with our song and our message, beyond the walls of the church, to the lovely and the unlovely alike…."
I'm amazed that you love me
I'm amazed how you care
Through your precious blood, I found pardon
And my sins are washed,
They're all washed away…
Then Carol shared the story of David Ruffin, a homeless man whose dramatic story of redemption is just one of the powerful stories to unfold from the ministry of the Brooklyn Tabernacle Choir.
"David slept outside our church, on the sidewalk, " she recalls. "His hair was all matted and he a foul smell from the street—absolutely filthy. Then one Easter Sunday morning, he heard the choir singing, so he picked himself up and came through the door. At the end of the service, my husband gave the altar call, and David walked down the aisle. My husband said to him, 'How much do you want?' thinking the indigent was looking for money. 'I don't want your money, ' David replied. 'I want what you have. Whatever this is, I want it.' He prayed and accepted Christ that very day."
The redemptive power of grace, as witnessed in stories like David's, echoes throughout the entire live recording of I'm Amazed... Live, which was produced by Carol, B.J. Goss, Lari Goss, and Oliver Wells. This same message lies at the heart of the Brooklyn Tabernacle itself. Proceeds from choir album sales help fund important church outreach ministries as the "Adult Literacy Program, " which has enabled hundreds of people to read, write and obtain their GED diplomas, free of charge—all while hearing the Gospel of Christ. "The graduation ceremony is the greatest day at our church all year, " Carol says. "It's incredible to see these people read something from the book of poems and stories they've written, many of them having received Christ. It's nothing short of amazing."
These victories, these opportunities, these powerful songs—and God's hand in each one—are what keep the Brooklyn Tabernacle Choir focused, faithful and excited about music and ministry.
"We get so many letters from people who have been ministered to through the music, " Carol says. "I'll share those letters with the choir sometimes because it really encourages them to keep on. They sacrifice a lot and work really hard to be in the choir, and it's just wonderful when you can hear how God has touched people, just by listening to the music. That has always been our goal, that is why we do what we do, and that is why it's always worth it."
YOU MIGHT ALSO LIKE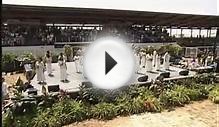 Total Praise - Brooklyn Tabernacle Choir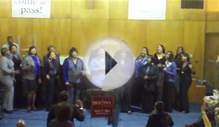 Praise Him.MOV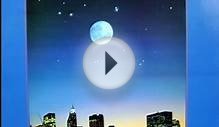 The Brooklyn Tabernacle Choir - WE`VECOME TO PRAISE HIM -1993
Share this Post
Related posts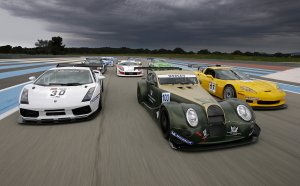 DECEMBER 09, 2023
Enjoy our Budget Air/Ground Shipping - starting as low as $2.99! Simply choose Budget Air/Ground as your shipping method…
Read More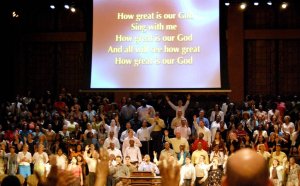 DECEMBER 09, 2023
The Brooklyn Tabernacle Choir (Facebook) The Grammy Award-winning Brooklyn Tabernacle Choir will release its 29th album via…
Read More