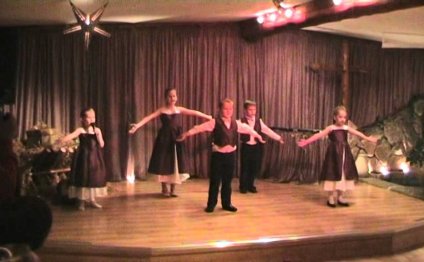 YouTube Happy Birthday Jesus Brooklyn Tabernacle Choir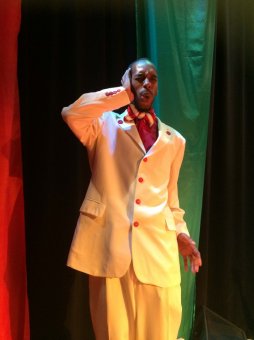 Photo: Deon Q
Black Nativity at TeCo Theatrical Productions
Dallas — TeCo Theatrical Productions comes up with a different version of Langston Hughes' Black Nativity every year—it's been their Christmas go-to since 2007—and this year's production at the Bishop Arts Theatre Center is a definite change of sound and scenery. Instead of familiar old spirituals, or the African or New Orleans themes of some past productions, TeCo's latest plants itself in the here and now. Director Selmore Haines III's concept keeps enough of Hughes' slim, poetic script for us to help us hear his distinctive voice—but keeps the show firmly grounded in our contemporary world, where even the lives of upright church women (a heart-tugging Michele Rene) may be more troubled than we can imagine.
It takes a mental adjustment, especially if you come expecting exactly what you got before. But the lively cast mix—fine professional singers-actors with an engagingly natural youth ensemble—should win you over. And the story grows in depth and emotion, from the small tale of church kids putting on a street-wise "yo, girl" Christmas pageant to the big choral finish, with a gloriously room-rattling gospel "Amen" that will linger in your mind and heart.
In 1961, Langston Hughes' Black Nativity opened Off-Broadway; it was one of the first works written by an African-American to have a New York professional premiere. Since then, it's become a staple work for companies across the United States: Boston's annual large-choir performance at Tremont Temple dates back to 1969. And the variations are endless; a 2013 Christmas-movie version of Black Nativity starring Jennifer Hudson and Forest Whitaker worked an entirely new plot into the mix.
Music director Michael Hubbard—who contributes an emotional new song to the show called "My Everything My All"—has picked some great music, and it's almost entirely from the modern gospel playlist. Some of these songs have been around: "No Room in the Inn" was a hit for Mahalia Jackson and others; Kirk Franklin wrote and performed "We Worship Your Holy Name" in the early '90s; and Whitney Houston made a hit of Warren & Hill's "Who Would Imagine a King." But others are newer: "Happy Birthday Jesus" by Carol Cymbala, director of the Brooklyn Tabernacle Choir; Erasmus Mutanbira's "Alpha and Omega"; William Williams'"Break Every Chain" (a hit for gospel singer Tasha Cobbs); and Smokie Norful's 2014 "No Greater Love." Backing the performers onstage, keyboardist Hubbard does a great job with these and other songs, along with bass player Michael Gordon and drummer John Berry.
Black Nativity begins in a church hall decorated for Christmas, and with snatches of gospel songs sung by the church choir; Deon Q. Sanders is a standout on a softly building "Alpha and Omega." Then the congregation's young folk (14 "children of Israel" play the roles) tell the Christmas story in their own way. An angel in shades (Kale Marable) uses his Smartphone to check in with the Heavenly Honcho, and "sister girl" Mary (Kelsi Harris) hears she's about to be a mom. Her guy Joe (Albert Wash II) isn't too happy at the news ("oh, no, she didn't!") until Shades brings him around. Mary feels the call to visit her cousin Lizzie B (Patricia Mays) and husband Rev. Z (James Curtis), both of them shocked but pleased to find they're having a baby despite being (the Rev's words, not ours) "old as dirt."
Mays and Curtis are tuneful and comic as the expectant elders: Lizzie tells Mary what that girl needs to hear—"ain't nothin' impossible with God!"—and the Rev, though struck dumb by an angel until the baby is born, shows off his world's-oldest-dad muscles. "Didn't my Lord deliver…" sings Lizzie as she goes into labor—and all the girls of the ensemble cluster around for the birth of John the Baptist. Young and old get together for a danceable "Everybody Ought to Know" as they shout the good news that Jesus is coming—and the youth ensemble lip-syncs memorably to a blues-y version of "No Room In the Inn."
Langston Hughes' lively, sometimes irreverent poetic voice rings out in the next number, an adapted, rap-style version of his lyric for "No Good Shepherd (Boy)"—written by Norris J and rapped outstandingly by Miguel Martinez, Larry Johnson III and Kale Marable. Lithe, muscular dancer Donald Thompkins Jr. leads angel dancers in telling the world "Emmanuel" is born, and Harris as Mary sings sweetly in "Who Would Imagine a King." Little Elle Chavis leads the touching first-act closer, "Happy Birthday Jesus."
In Act Two, the cast reassembles for church, with old and young dressed for Christmas Day. (Dale Weaver's best touch is actress Doris Black-Hubbard's amusing church-lady hat, every feather a-tremble.) One line of actors forms a new front row, facing the stage like the audience; now we're a part of the congregation—and the big voices are ready to testify.
Tucked away in the ensemble of choir singers—strong voices all—are the likes of singer/songwriter LaLa Johnson, a background vocalist for Erykah Badu, and Denise Baker, who has performed multiple times on American Idol. Johnson steps out front for Hubbard's "My Everything My All"—which starts quietly, then builds to a truly joyful noise—and Baker digs deep for a resonant, compelling rendition of "Break Every Chain." Bryant Huey, who plays the pastor (and choreographed the show) teams with Black-Hubbard and Johnson on the show's oldest song, the beautiful "Guide Me O Thou Great Jehovah"—and does fine solo work for the newest one, Norful's "No Greater Love."
Happily, though, the best is last. Richard Smallwood's "Total Praise" is one of gospel's most intricate and challenging songs, and with about two dozen massed voices onstage, the cast makes it a reverberating, worth-waiting-for finale.
YOU MIGHT ALSO LIKE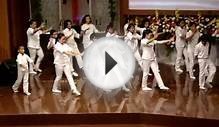 Happy Birthday Jesus - Brooklyn Tabernacle Choir - kids dance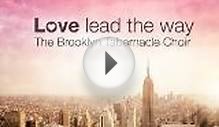 Happy Birthday Jesus - Brooklyn Tabernacle Choir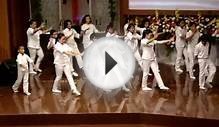 Happy Birthday Jesus - Brooklyn Tabernacle Choir - Arrow ...
Share this Post
Related posts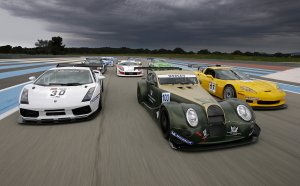 DECEMBER 09, 2023
Enjoy our Budget Air/Ground Shipping - starting as low as $2.99! Simply choose Budget Air/Ground as your shipping method…
Read More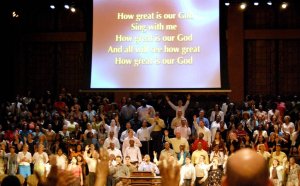 DECEMBER 09, 2023
The Brooklyn Tabernacle Choir (Facebook) The Grammy Award-winning Brooklyn Tabernacle Choir will release its 29th album via…
Read More