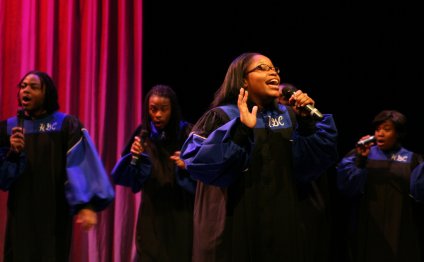 Howard Gospel Choir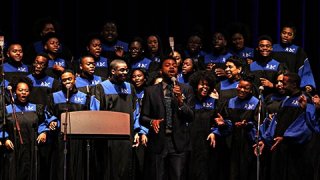 Biography
Founded in the fall of 1968 by Melanie Russell (Lee) and Rosalind Thompkins (Lynch), the HOWARD GOSPEL CHOIR (HGC) of Howard University is the first collegiate choir of its kind in the world. As a result, HGC has pioneered an international legacy in gospel music ministry. With an active roster of seventy-plus persons, the choir is one of the largest religious life organizations on campus, operating under the historic Andrew Rankin Memorial Chapel. The Dean of the Chapel, the Reverend Dr. Bernard Richardson serves as the choir's advisor.
In addition to distinguished professionals in every imaginable discipline, past members of this award- winning ensemble include Grammy Award© winners Richard Smallwood, Coré Cotton (member of Sounds of Blackness), and Elbernita "Twinkie" Clark of the legendary Clark Sisters, as well as R&B star Ángela Winbush.
Exceptional musicians have always been instrumental in shaping HGC's unique sound to embrace both contemporary and traditional gospel, church hymns, Negro spirituals and classically arranged anthems. For over two decades, the late Arphelius Paul Gatling, III served as the Musical Director. He is largely responsible for crafting the unique sound of the choir.
For the past four decades, HGC has set a very high standard as a premier performing arts ensemble. The choir has been privileged to sing at a wide variety of venues in and around the Greater Washington, DC Metropolitan Area including: The White House, the Capitol Building, DAR Constitution Hall, Washington National Cathedral, the John Fitzgerald Kennedy Center for the Performing Arts, and the Smithsonian Museum of American History.
The choir has also been blessed to receive both national exposure, having appeared from coast to coast within the continental United States, and international exposure, having served as cultural ambassadors to other countries including Canada, Croatia, Denmark, Italy, Montenegro, Sweden and the Caribbean island of Barbados. Most recently, they successfully completed an 18-day Eastern European Tour visiting the Republic of Georgia, Slovakia and Ukraine in December 2013. In additional to headlining several high-profile concerts in a variety of venues, they participated in other cultural exchange activities and conducted a number of master classes discussing various vocal exercises and the history of Gospel Music.
From the outset, the Howard Gospel Choir has been in constant demand. HGC has been blessed to share the stage with a number of musical luminaries including Tony Bennett, Stevie Wonder, Fantasia and Patti LaBelle. Additionally, HGC has performed at functions that have featured prominent political, religious and public figures such as President Barack Hussein Obama, Dr. Henry Louis Gates, Jr., the Reverend Jesse Jackson and the Reverend Dr. Jeremiah A. Wright, Jr.
Notwithstanding the legacy of excellence and the vast accomplishments since its inception, the main objective remains the same: to spread the Good News of Jesus Christ through song. Our purpose and passion is to serve Christ with our musical gifts bringing peace, restoration, healing and inspiration to all who will lend their ears and hearts. It's more than just singing; this is ministry.
The choir is currently under the musical direction of Reginald Golden, a Howard University graduate from University Heights, OH. Darrell Brown, a Howard University graduate, is the assistant musical director.
For more information contact: (202) 758 5193 | info@howardgospelchoir.com | www.howardgospelchoir.com.
Stay connected with the Howard Gospel Choir of Howard University on social media:
Watch Past Performances
The Howard Gospel Choir of Howard University, formed by students, alumni, and community members, presents a night of energetic gospel music. The first collegiate choir of its kind, the ensemble is directed by Howard University graduate Reginald Golden.
YOU MIGHT ALSO LIKE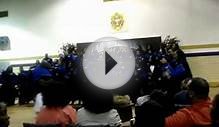 Howard Gospel Choir - "Awesome God"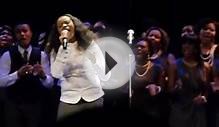 Howard Gospel Choir - "Changed"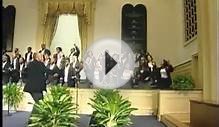 Howard Gospel Choir - "Thank You Lord"
Share this Post
Related posts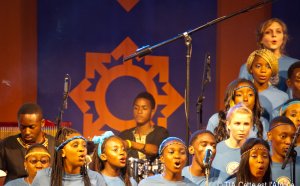 SEPTEMBER 29, 2020
WILMINGTON, Del. (CBS) — There was just enough time to squeeze in one last practice this afternoon at Cab Calloway School…
Read More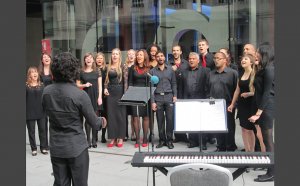 SEPTEMBER 29, 2020
Ken Burton regularly directs the London Adventist Chorale and Croydon SDA Gospel Choir. Following the latter's involvement…
Read More