YouTube Gospel Choir
Music is one of the most dominant forms of entertainment, in other cases music is used to praise God. This form of music is known as gospel. Most of these songs are usually uploaded to a website such that it can reach to most people globally, the videos of the songs can be watched online by people globally. Gospel videos just like other videos are uploaded on you tube. The higher the popularity of the video the higher the number of views it gets. Among the African gospel music videos most watched on youtube include the following;
1. Wa Hamba Nathi-Solly Mahlangu
Wa Hamba Nathi Gospel Video was uploaded on Youtube on Dec 19, 2011. Once it was uploaded, it drew immense attention from its fans. Produced by pastor Solly Mahlangu who is a worship leader and music director in South Africa, this video earned him an award at the 2012 South African Music awards. Its viewers were highly amazed by the uniqueness of the video and they commended its quality, more specifically, the quality of the graphics used.
2. New African Gospel Music 2013 Gahonganyire Aline- Yelele
This gospel video produced in East Africa was uploaded on Youtube on March 2013 and was viewed by an overwhelming number of people, although sang in a local language, its lyrics are easy to capture and the natural sound of the artist makes it just irresistible.
3. Ghana Gospel Mix 18-Sonnie Badu Mix (Colors' Of Africa)
This highly amazing Ghanaian gospel mix also known as the true colours of Africa, is an amazing gospel mix that have got 406, 096 views since it was uploaded on Youtube on June 2013. This mix features most of the Ghanaian gospel singers making it inevitable for a large number of Ghanaian viewers.
YOU MIGHT ALSO LIKE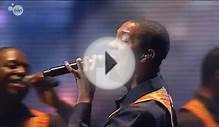 Angels in Harlem Gospel Choir - I Believe I Can Fly (Live)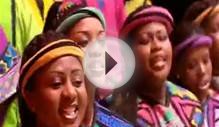 Soweto Gospel Choir - Avulekile Amasango/One Love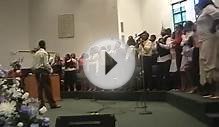 In HIS Presence Gospel Choir - Ride On King Jesus!!!
Share this Post
Related posts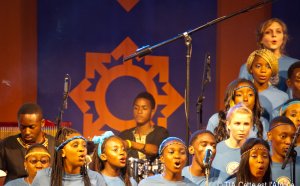 SEPTEMBER 29, 2020
WILMINGTON, Del. (CBS) — There was just enough time to squeeze in one last practice this afternoon at Cab Calloway School…
Read More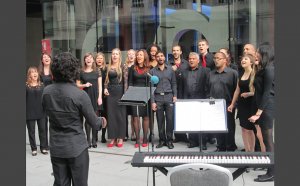 SEPTEMBER 29, 2020
Ken Burton regularly directs the London Adventist Chorale and Croydon SDA Gospel Choir. Following the latter's involvement…
Read More