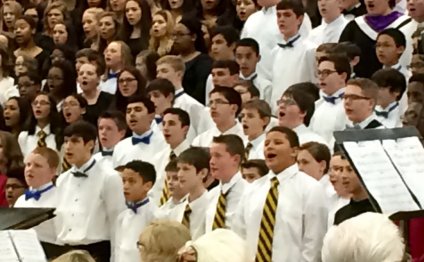 Middle School Choir, Music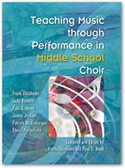 A breakthrough in middle school choral teaching—seven years in the making!
Frank Abrahams, Judy Bowers, Paul D. Head, James Jordan, Patrick Liebergen, and Sherri Porterfield
compiled and edited by Frank Abrahams and Paul D. Head
This book is one of the most comprehensive resources ever published for middle school choir directors—written, researched, and compiled by conductors and educators with a wealth of teaching experience.
is ideal for anyone who seeks a deeper understanding of the best choral literature for middle school singers and who wishes to learn from some of the seminal voices in the profession.
In Part I, Sherri Porterfield discusses the role of assessment in middle school artistry; Judy Bowers outlines a hierarchy for independent part singing; Patrick Liebergen and Paul D. Head discuss selecting and preparing quality repertoire; James Jordan encourages the inner journey of a young singer; and Frank Abrahams introduces comprehensive musicianship through the lens of critical pedagogy and reciprocal teaching.
Part II includes Teacher Resource Guides for 80 of the best works in print for middle school choirs of all ability levels: unison and canons, SSA and SAA, TTB and TTBB, CBB and CCBB, SA, and SATB.
Each Teacher Resource Guide includes information about the composer or arranger, composition, historical perspectives, technical considerations, stylistic considerations, musical elements, form and structure analysis, and text guidelines. Each guide also contains valuable suggestions for rehearsing the music with middle school students. Resource Recordings of much of this music is available separately (CD-854).
Ultimately, this invaluable book will help middle school conductors move beyond the printed page to musical awareness and understanding.
Frank Abrahams is professor of music education and director of the Center for Critical Pedagogy at Westminster Choir College of Rider University in Princeton, New Jersey. He is an active clinician and a pioneering leader in the development of critical pedagogy for music education. With Paul D. Head, he is co-author of Case Studies in Music Education (GIA).
Paul D. Head is director of choral studies at the University of Delaware and chair of the Department of Music. His choirs have toured extensively throughout the United States, Canada, Asia, and Europe and have received consistently high acclaim for their musical artistry. He has conducted All-State choirs in ten states and is a sought-after clinician.
Judy Bowers is professor of choral music education at Florida State University. She teaches undergraduate and graduate courses in choral music and music education with an emphasis on middle school choral education.
James Jordan is a prolific author on choral pedagogy and philosophy and is a senior conductor at Westminster Choir College of Rider University, where he conducts the Westminster Williamson Voices and the Westminster Schola Cantorum.
Patrick M. Liebergen is widely published as a choral editor, arranger and composer and is the director of choral activities at the University of Wisconsin-Stout in Menomonie, Wisconsin.
With over thirty years of teaching experience, Sherri Porterfield teaches sixth- and seventh-grade vocal music at South Valley Middle School in Liberty, Missouri. Her choirs have earned numerous first place and sweepstakes awards, and she is also an active composer and clinician.-
Edition #
Title
Price
Qty
Resource Recording, Teaching Music through Performance in Middle School Choir
This CD set contains premier recordings of 50 of the most significant works ever composed for middle school choir, as selected by world-renowned educators and conductors Frank Abrahams, Judy Bowers, Paul D. Head, James Jordan, Patrick Liebergen, and Sherri Porterfield. For more information about each piece, as well as conducting insights, refer to the book Teaching Music through Performance in Middle School Choir published by GIA.
YOU MIGHT ALSO LIKE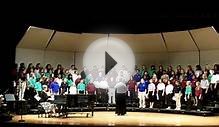 Stafford County 2010 All-County Middle School Choir- Music ...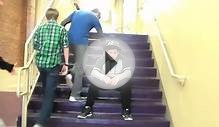 Music Video Monett Middle school Choir "hey there Delilah"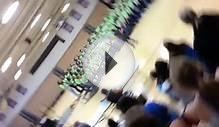 Goddard Middle School Choir Music in the Parks 2015
Share this Post
Related posts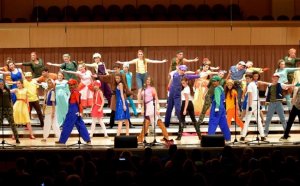 OCTOBER 01, 2023
General Admission Formed in 2011, General Admission is Eisenhower s 6th grade beginning chorus. This group is not auditioned…
Read More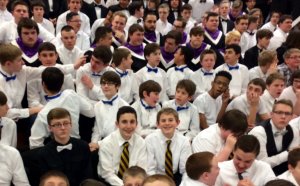 OCTOBER 01, 2023
Dear 6th, 7th, and 8th Grade KTEC Choir Parents and Students, I am so happy to be part of the KTEC family again! It is such…
Read More