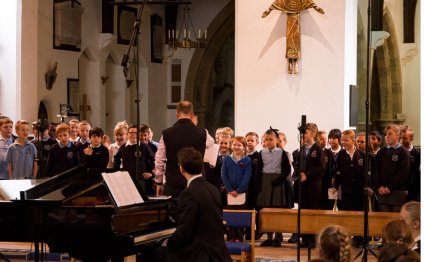 Portsmouth Cathedral Choir
The Cathedral Choir is made up of twenty-four boy choristers and fourteen gentlemen (made up of seven lay-clerks and up to seven choral scholars) who contribute to the pattern of daily cathedral worship. The choristers rehearse on weekday mornings at 8.00am before a normal school day in preparation for the week's music. In any normal week the Cathedral Choir sings for at least 5 services. The Choral Scholars also form a close-harmony group who are available for bookings – please email for more information.
The choristers are educated at Portsmouth Grammar School that, as such acts as our choir school (also see Choir Schools Association). Opportunities exist for counter-tenor, tenor or basses who, having completed their school or university education, are looking for the chance to sing and work within a cathedral foundation for a year with a Choral Scholarship. Please see the page on Gap Year Opportunities and e-mail the for further information.
PORTSMOUTH CATHEDRAL CHOIR
At home
The choir plays an important role in the life of the Diocese and City by singing at Ordination, Confirmation, Civic and Remembrance services. The choir is often invited to sing at churches throughout the Diocese of Portsmouth. The Royal Marines' School of Music is now based in Portsmouth, and the choir and Orchestra or Band of the Royal Marines regularly work together.
National
The choir has been at the heart of recent DDay Commemorations in Caen and Bayeux in Normandy, France and here in the UK. The ceremonies saw BBC Radio broadcasts, a concert in Caen with the London Mozart Players and appearing at the International Service of Remembrance at Bayeux in the presence of HM The Queen, President of France and The Prime Minster and an International Drumhead Service on Southsea Common in the presence of The Princess Royal.
The 200th anniversary of the Battle of Trafalgar and death of Lord Nelson involved the choir performing at a number of international and national events. Notable amongst those was the International Drumhead Ceremony during in the International Festival of the Sea in June, and at events aboard Nelson's flagship, HMS Victory, during Trafalgar Week (including three BBC radio and TV broadcasts). Our 'Nelson year' concluded with a live broadcast of Choral Evensong on BBC Radio 3 on the day 200 years ago that Nelson's body sailed from Portsmouth to London for his State Funeral.
On tour
Our recent tours…
1998 Estonia: Tallinn, Rapla, Viljandi, Parnu (men and boys)
1999 Belgium and Holland: Antwerp, Gent, Vlissngen (men and boys)
2000 France: Bec, Rouen, St Wandrille (men and boys)
2001 Belgium: Antwerp, Brussels (men and boys)
2003 Sweden: Stockholm, Upsalla (men and boys)
2004 Belgium and Holland: Antwerp, Vlissingen, Arnhem (men and boys)
2004 France: DDay 60 – Caen, Bayeux (men and boys)
2006 Estonia: Tallin, Viljandi, Parnu (men and boys)
2007 Estonia: Tallinn, Tartu (men)
2007 Denmark: Copenhagen, Roskilde, Aarhus (men and boys)
2008 France: Alpe d'Huez, Chambery, Allemont (men)
2008 France: Paris, Rouen (Cantate)
2009 France: Alpe d'Huez, Chambery, Annecy (men and boys)
2009 Austria: Salzburg (Cantate)2010 Belgium: Antwerp (men and boys)
2011 France: Alpe d'Huez (senior choristers and men)
2011 Germany: Berlin (men and boys)
2012 France: Alpe d'huez and Lyon (Cantate)
2013 Sweden: Uppsala and Stockholm (men and boys)
2013 Malta: Gozo (Cantate)
2014 France: Alpe d'Huez (men)
2014 Belgium: Antwerp and Ypres (boys and men)
and in the planning stage……
2015 Estonia: Tallinn (men)
2015 Italy: Florence (Cantate)
2016 USA: New York, Washington DC and Portsmouth NH
Recordings & Broadcasts
The choir regularly broadcasts on TV and Radio including playing a major part in two BBC Songs of Praise programmes. BBC Radio 3 and 4 were with us in France for DDAY 60 for a 'Sunday Morning' broadcast as well as a Wednesday 'Choral Evensong'. This pattern was repeated for Trafalgar200 with a live BBCRadio 4 'Sunday Morning Worship' at 8.10am on Sunday 16th October, a Radio 4 Daily Service from HMS Victory on 21st October and a Radio 3 Choral Evensong at 4pm on 7th December. We most recently sang on Radio 4 for DDay 70 and on Christmas Day 2014
The choir has also made a number of recordings, the most recent being a reconstruction of music from Admiral Lord Nelson's Funeral released in 1999 year and 'I look from afar' – a recording of Advent and Christmas carols released in 2001- all of these are available through the label. We have just released 'Portsmouth Remembers' through Guild Records- a re-release of a 1984 LP recording with an extra half-an-hour from the present-day choir.
We have just completed a recording project with Clare College Choir, Cambridge, Mark le Broq and the Britten Sinfonia (under Andrew Parrott) of Harvey Brough's DDay 60 'Valete in Pace'.
YOU MIGHT ALSO LIKE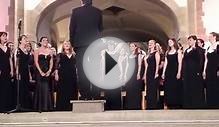 Portsmouth Military Wives Choir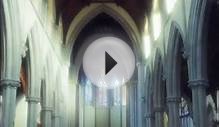 Portsmouth Cathedral Choir - Magnificat and Nunc Dimittis ...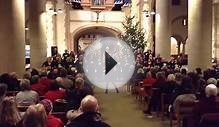 Portsmouth Rock Choir @ Portsmouth Cathedral 17 Dec 2013 ...
Share this Post
Related posts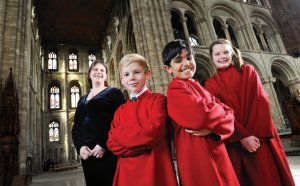 DECEMBER 04, 2023
2. Psalm 51 Kit Perona-Wright 3. Psalm 52 Stanley Vann 4. Psalm 53 Stanley Vann 5. Psalm 54 Anonymous 6. Psalm 55 Stanley…
Read More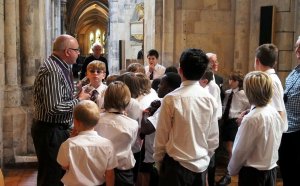 DECEMBER 04, 2023
"Without music the stones have no voice" At the heart of the Cathedral's worship is music performed in the English Choral…
Read More