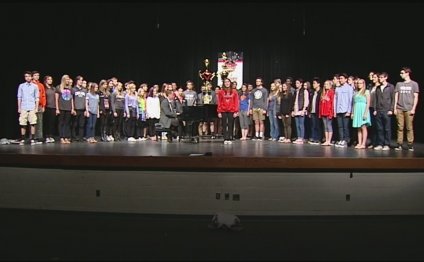 National Show Choir competition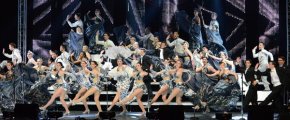 By Matt Parish
As show choir programs across country continue to thrive, a strong network of competitions has evolved to provide them with a national spotlight.
In the early days, handfuls of students around the country would check listings for local public broadcasting and cable access stations, looking for the replay of that year's humble show choir competition at an Indiana school called Bishop Leurs. They'd watch the taped performances to see students from halfway across the country putting on shows filled with Broadway tunes and standards. They'd check school budgets and wonder if they'd be able to make it out to Indiana one day to get their own hardly recognized programs some love for a change.
A lot has changed since then.
These days, show choir is a national phenomenon, serving as a country-wide obsession for millions thanks to decades of grassroots organization, as well as an explosion of pop culture tied up in the practice. Television programs like Glee, American Idol, Sing-Off, and more bring mountains of viewers into the fold almost every night. And as production techniques continue to grow more and more sophisticated, participation in high school-level programs is on the rise.
To accommodate this interest, a number of next-generation programs have emerged as leaders in the push for increased opportunities for these performance groups. The days of the dominance of programs like Bishop Leurs and the early adopting organization Showstoppers are over, but every event put on today proudly cites those as major influences in their efforts to create consistently memorable educational experiences for students, while at the same time offering a more standardized method of national rankings. Programs like FAME, Show Choir Nationals, and Interkultur are offering choral programs unprecedented levels of exposure and professionalism, while high quality festivals like the Midwest Cup at the University of Nebraska serve as breeding grounds for the show choir programs of the future as students, teachers, and future educators network with the best.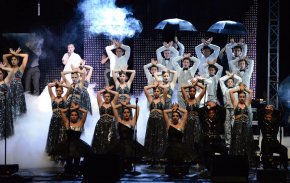 Choral Director spoke with representatives from some of today's most prominent programs – FAME president and CEO Joel Biggs, Show Choir Nationals president Daryl Ussery, and Midwest Cup director Peter Eklund – to get the story behind the development of each of their respective corners of this exciting part of choral education.
Beginnings of Show Choir Culture
Choral Director: We're nearly a couple decades into what might be called the modern show choir era at this point – almost 20 years of FAME, 13 years of the Show Choir Nationals, and the maturation of several other events like Nebraska's Midwest Cup. How did you all first get involved in this scene?
Joel Biggs: We started out doing a music festival in Branson, Missouri for all performing groups. The show choirs were unique, though, and we felt like there was an opportunity to provide them with something that they needed at the time, which was a competition that allowed them to innovate and create. We had a great response and Branson became hugely successful. At that point, our participants were telling us that it would be nice to have more destinations outside of the region, so we developed the additional competitions in Orlando, New York City, Chicago, and Los Angeles. That's what really set up the foundation for the Show Choir National Championship Series.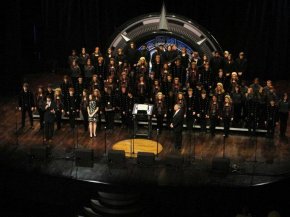 Peter Ecklund: I was in a bad high school group early on, but then matriculated to the University of Iowa, where there was a fine university show choir that was very current at that point. In the neighborhood there was a terrific high school group and, to my surprise, I was offered a teaching position right there in town. I decided I had to learn this fast. Everyone told me that if I wanted [to learn from] the best in the state, I just had to go down the street and meet that person. So I did. His name was Larry Kelly and he could not have been more helpful in terms of sharing ideas, concepts, and students. I ended up teaching in Iowa City and went with him on a trip to one of the most influential early contests, at Bishop Leurs in Fort Wayne, Indiana.
Because I grew up in Iowa and everybody was so choral-friendly there, I didn't know that the Indiana culture was highly competitive. At Bishop Leurs, I didn't hesitate to go up to people and try to make them my new best friend – I've always sought the best and most knowledgeable and rarely if ever found them to be unwilling to share their ideas.
I transferred right into teaching high school and took over a program that had been a mover and a shaker and had suffered a couple down years. I thoroughly enjoyed that teaching experience. We never really wanted the show choir to be the tail that wagged the dog, but there's no doubt that it gets kids paying attention. Not only that – it created balanced choirs, which I was excited about. We had three mixed show choirs. Just because of the sheer numbers that were involved, it generated a lot of national attention and created a situation where I was offered a job at a major U.S. research institution to resurrect the program here.
Daryl Ussery: I was the choral director at Homewood High School in Homewood, Alabama for 23 years. The show choir competition at Homewood High School began in 1989 and was given the name "South Central Classic." That's what got me interested in show choir. Show choir is just a different world than "serious" choir music, with costuming, dance, props, and scenery. It was much different when the show choir began at Homewood.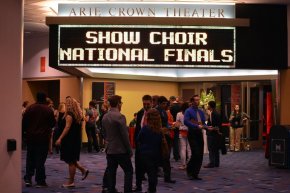 There was one costume, no scenery, a back-up band, and all that was involved was singing and dancing. A lot of people still feel that if you can't sing and dance, in today's shows, the scenery, props, and costumes (in most cases) aren't going to help your score.
CD: Going back to your history with the show choir world, were there any specific example that you used as inspiration?
JB: Honestly, our inspiration was gained from the show choirs themselves. We were in awe when we saw our first group perform. Our commitment was to put the same effort into producing our events that each of them did in developing their own show. Of course we recognize that there were so many important players throughout the years who really helped develop show choir and were instrumental in making it what it is today. The many talented directors, choreographers, and producers who still remain committed to show choir are truly an inspiration to us.
DU: The first show choir competition I remember was Bishop Luers High School. This really set the standard for how show choir competitions were done – the rules and everything. Another was Showstoppers, which was really the first national competition. They pretty well had it down – it ran smoothly and on time.
PE: Bishop Leurs were highly influential, and they had great groups pulled from all over the Midwest. I think that part of it was that the local television station videotaped it and then it went out to almost national public broadcasting stations. It became such a prize to get into that top six that the groups changed quickly. A lot of groups started to copy each other, plain and simple. After I made a couple of trips out there, I came back and did similar version of that event in Cedar Rapids. My event was then quickly copied around the state. There weren't very many competitions like that at the time. My gosh – that was 28 years ago or 30 years ago.
YOU MIGHT ALSO LIKE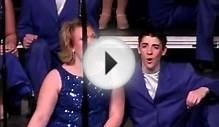 Pleasant Hill Hillside Singers - 2004 National Show Choir ...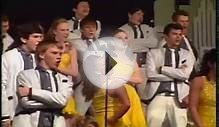 The Classics Show Choir - OZ - Competition Show 2012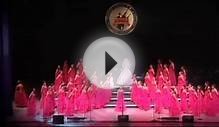 Los Alamitos Sound Trax FAME Show Choir National ...
Share this Post
Related posts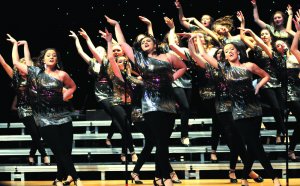 JUNE 09, 2023
Orange County picked up 50% of the ribbons and had four of the 15 finalists in the FAME Show Choir National Championship…
Read More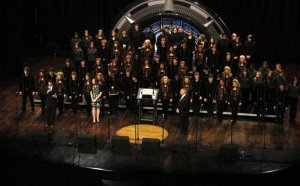 JUNE 09, 2023
Members of the show choir at Wheaton Warrenville South High School have a story to tell after they escaped a burning bus…
Read More