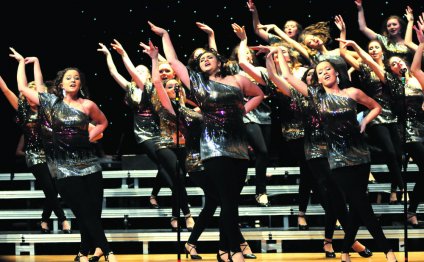 Show Choir National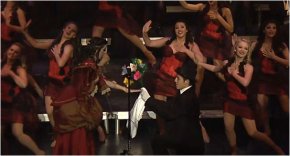 Orange County picked up 50% of the ribbons and had four of the 15 finalists in the FAME Show Choir National Championship in Waukegan, Illinois this weekend, with the choirs from Los Alamitos High School school winning both the mixed gender and the single-gender events. (Yes, this competition is like what you've watched in Glee, but with — I hope and believe — substantially less underage sex. Also, there's less Sue Sylvester.) Brea-Olinda High School picked up 3rd place in the single-gender division — where it presented both a female and male choir — and finished ninth in the mixed division. Cypress High School also qualified to participate in the mixed division, finishing 17th in the nation.
If you want to watch all of the mixed-group performances. The performance of Los Al's "Sound FX" choir starts at about the 10:00:00 (ten hour) mark. Brea's "Masquerade" choir starts at about 5:30:00 and Cypress's "High Voltage" choir starts at about 9:00:00. The full rundown by both time and final placement (you can sort by either) for the 7 unisex and 18 mixed choirs .
In the unisex division, Orange County brought home the grand prize for the second consecutive year, as Los Al's "Soundtrax" beat last year's FAME national champions, Brea's "Spellbound" and several others. The video of the competition — note that it was a lot spottier in live broadcast, which hopefully will not be reflected in the archived video — .
Lest one imagine that this was a mostly California event, rather than just one where OC has recently dominated, the 2nd place school was from Ft. Wayne, IN, while in the mixed division the second- and third-place schools were from Loveland, OH and Cedar Rapids, IA. Other states represented included Missouri, Mississippi, Nebraska, New York, Oklahoma, Utah, and Wisconsin. Obviously the costs for the California schools to travel to the Chicago area were among the highest of anyone's.
Los Al's triumph went well beyond the two Grand Champion trophies. In the mixed competition, they also picked up awards for Best Vocals, Best Choreography, Best Show Design, Best Male Sound, Best Female Sound, Best Costumes, Best Repertoire, and Most Original Song Selection — over half of the overall awards given out. In the unisex competition, they won for Best Vocals, Best Choreography, Best Show Design, and Best Diction, while Brea won the awards for Best Costumes and Best Stage Presence.
As a Show Choir parent, I can strongly recommend this "team participation" activity for students who have either the ability to sing or to dance and act (and ideally both.) A good look at those videos tells you how far this goes beyond the usual high school experience. (Now if we could only restore funding for arts education in general to its former glory days….)
Congratulations to the winners — and to everyone else who qualified to go to Nationals!
About Greg Diamond
Prolix worker's rights and government accountability attorney. General Counsel of CATER, the Coalition of Anaheim Taxpayers for Economic Responsibility, a non-partisan group of people sick of local corruption. Deposed as Northern Vice Chair of DPOC in April 2014 when his anti-corruption and pro-consumer work in Anaheim infuriated the Building Trades and Teamsters in spring 2014, who then worked with the lawless and power-mad DPOC Chair to eliminate his internal oversight. Runs for office sometimes, so far to offer a challenge to someone nasty who would otherwise have run unopposed. Someday he might pick a fight intending to win it rather than just to dent someone. You'll know it when you see it. None of his pre-putsch writings ever spoke for the Democratic Party at the local, county, state, national, or galactic level. A family member works part-time as a campaign treasurer. He doesn't directly profit from that relatively small compensation and it doesn't affect his coverage. (He does not always favor her clients, though she might hesitate to take one that he hated. He does advise some local campaigns informally and generally without compensation. If that changes, he will declare the interest. He also runs a less frequently published blog called "The Brean, " for his chosen hometown, where he is now fighting with its wealthiest and most avaricious citizen-donors. This just seems to be his way.
YOU MIGHT ALSO LIKE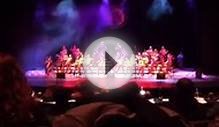 FAME show choir national finals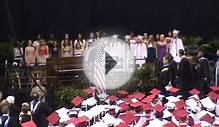 Up Front Girls Show Choir Singing National Anthem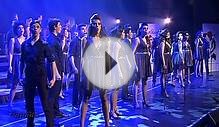 Show Choir Canada 2014 Nationals - ESA "Splash"
Share this Post
Related posts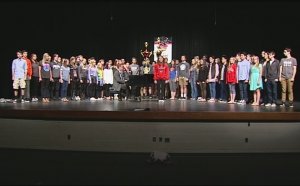 JUNE 09, 2023
By Matt Parish As show choir programs across country continue to thrive, a strong network of competitions has evolved to…
Read More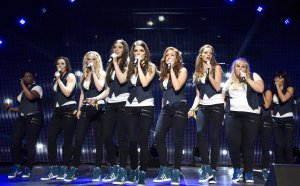 JUNE 09, 2023
If I say 'choir', an image will pop into most people's minds. a bunch of fidgety 7-year-olds screeching out a barely recognisable…
Read More