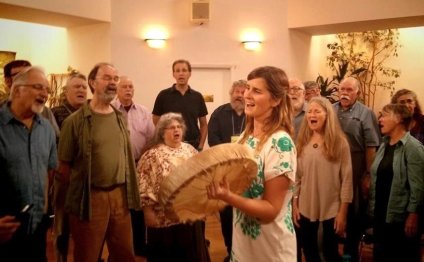 Gettin Higher Choir
We have two email notification lists. One for people wanting to know about our choir's upcoming concerts and other public events and one for people who are considering joining the choir. On either list you will receive a maximum of 6 - 8 notifications per year. Whichever list you choose you will recieve advance notice emails for two sets of concerts, two new singers in-take periods plus one or two summer drop-in reminders. You may also recieve a few notifications sent out soley to your list. To add yourself to the list that best fits your interest in our choir please click on the most appropriate link below:
In the body of your email please enter: your First & Last Names, email address and phone number(s). Including how you first heard about the choir would also be appreciated.
You can remove yourself from your list anytime by replying to any email from us with a cancellation request.
New Singer Intake & Registration
We take in new singers the first two weeks of each season with three nights and two locations to choose from in each of those weeks. (Please see the calendar above for specific dates and details but in general our seasons start around mid to late February and September)
Mondays
The First Unitarian Church of Victoria, 5575 West Saanich Rd.
Tuesdays and Thursdays
The Church of Truth, 111 Superior St. (James Bay)
We meet from 7:30 to 9:30 each night of the season and there will be New Singer Orientation sessions from 7:00 to 7:30 p.m. on each of the intake nights. Check out our FAQs for New Singers .
Fee Information
Choir fees are $175 for the season with a sliding scale discount from there down to $130 for seniors/ students/unwaged as needed. As a member supported choir we ask that members pay the full fee if possible. If you need a discounted fee we ask you to decide where on the sliding scale you fit based on your knowledge of your own finances and then let us know. Payment plans and even partial or full scholarships are also available as needed. Our bottom line is, no one misses choir because of money.
Singing in the concerts
While a significant portion of the singing we do each choir night is purely for the fun of it we also work toward a pair of concerts at the end of each session. There is no requirement that every member sing in these concerts but we enthusiastically recommend the experience. Usually two thirds or more of the members do so with many of the rest enjoying the concert from the audience. Singing for friends, family and well wishers, to raise funds for very worthy causes as part of our 300+ voice singing community is a great means of "Gettin' Higher".
For each pair of concerts the members of the choir take up a collection among themselves to donate to a worthy cause that is connected to the primary beneficiary. This donation is made in honour of the choir's directors, guest artist(s), and others sharing the stage with it in liu of purchasing the traditional bouquets, For more information check out our Honouring Fund Origins & Uses page.
GHC Radio Coverage
Listen to these radio interviews from past seasons:
Shivon Robinsong & Perpetua Alfazema on CBC Radio, June 4, 2010 (Shivon is our founding director & Perpetua is one of the founders of the Kapasseni Project and the founder/manager of the
Kuwangisana Project. We have been supporting the former organization with our June concerts since 1999 and the latter since 2007.
What are sectionals?
Sectionals are special practices that offer members opportunities to practice with other members outside of regular choir time. There are three types:
Choir Sectionals
These sectionals are always from 6:45 to 7:30 pm (before the regular choir sessions). They are are organized and led by our Directors for specific sections. They give members of individual sections (Sop/Alt/Ten/Bass) opportunities to practice their parts without the distraction of waiting while other sections are learning theirs.
Home Sectionals
These are sectionals that happen at times and places set by those members who choose to host them. As with the Choir Sectionals they are for specified sections. They often include a social aspect that facilitates section mates getting to know each other better. (ie a post-practice social period with a fingerfood, or even a full-meal-deal, potluck can be fun!)
Home Cross Sectionals
These ones are organized, and participated in, by folks who like to experience the full harmonic sound by practicing with singers from all sections. As with Home Sectionals their locations, times and any social aspects are set by the host. The host also sets the maximum number of singers per section as the harmonies are best heard with a relatively equal number of voices per section.
Being a Home or Cross Sectional host
Sectionals, and Cross Sectionals, hosted in members' homes (or social rooms in residential buildings) are a very enjoyable ways to learn our parts and to get to know each other better. All it takes to host a Sectional, or a Cross Sectional, is enough space for your group to gather. As a home sectional host you can limit your invitation to the section member's on your home night or extend to those from all three nights. Usually hosts extend an open invitation and a half dozen to a couple of dozen singers will participate. Cross sectional hosts usually specify a desired number of singers per section to get a good balance and to maximize the ability of everybody to hear all the parts clearly. A keyboard is helpful (or other means of giving starting notes supplied by anyone in the group). Your group could also sing along to the appropriate parts files from our web site played on a computer or some other device. Another option is to sing along with a CD made from those parts files if you have burned your own or purchased one of the ones Practice CDs sold at choir every season.
How you can become a Home or Cross Sectional host
Just pick a date and time that works for you, let me know as specified below and your sectional information will be:
listed in this site's Choir Life: Calendar (see above)
listed it in the "GHC Sectional Schedule " section in the appropriate issues of the newsletter
emailed as a special advance reminder to all current singers in the specified section for Home Sectionals
In general Home Cross Sectional hosts will need to track and communicate with the singers who have RSVPd in order to oversee the balance of singers from each section but they can request that a special email to be sent all singers in a section with insufficient participant.
YOU MIGHT ALSO LIKE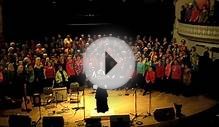 Invitation to Sing (with the Gettin Higher Choir)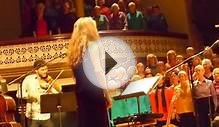 One Sky by Zac Doeding - performed by the Gettin Higher Choir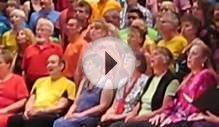 Gettin Higher Choir "Ila Gi Ya, Mozambique"
Share this Post
Related posts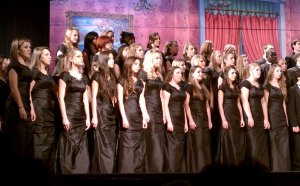 DECEMBER 01, 2023
EVAN CAIN, Account Manager Carmel High School, Ambassadors I think my favorite memory from show choir was the last time our…
Read More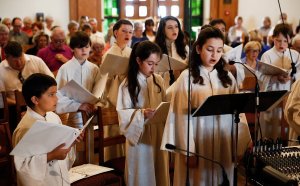 DECEMBER 01, 2023
On Saturday, September 13, 2014, new and returning members of the National Lutheran Choir gathered for their first rehearsal…
Read More