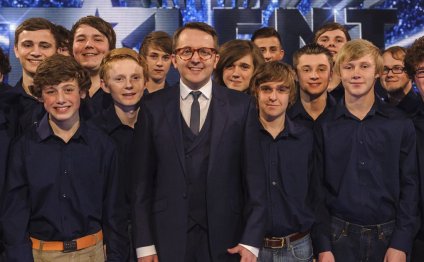 Only Boys allowed Choir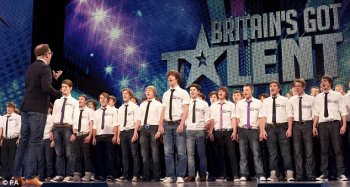 And next month, the Welsh choir group, who range in ages from 14-19, will release their self-titled debut album.
Masterminded by the record label Sony, the new album will feature a traditional mix of choral music combined with a selection of upbeat modern tracks.
The super choir was formed two years ago by the musical director Tim Rhys- Evans who recruited boys from the local schools in South Wales.
Only Boys Aloud received rapturous applause in the auditions and semi-final, belting out rousing performances of traditional Welsh hymns
The 40-year-old conductor initially came to prominence as the founder of all male choir Only Men Aloud who performed at the Olympic Opening ceremony in the summer 2012.
Speaking to The Mail, Mr Rhys- Evans said he was keen to create a choir for the next generation to instil a sense of belief in youngsters from the Welsh Valleys.
He said:
'Life in the valleys can be difficult for young people. There are high levels of unemployment and there's also a big problem with heroin addiction. I wanted to build a choir to inspire the boys through music and make them believe that they can do something with their lives'.
And Mr Rhys-Evans added that the decision to form a choir solely consisting of boys was deliberate.
He said: 'I decided that having girls in the choir would be too much of a distraction, the boys would become bashful and then feel inhibited which defeats the purpose of singing'.
For one member, 18-year-old Rhys Slade- Jones, the choir has changed his life.
Growing up in the small Welsh town of Treherbet, Mr Jones was the youngest of four brothers, three of whom signed up for the British Army at the age of sixteen.
Currently a student of music and drama at London's Goldsmith's Mr Jones admitted that joining the choir helped him to find his voice.
'Before I joined I didn't really like talking to strangers I was very shy and the choir gave me a lot of confidence. I knew I didn't want to join the army like my brothers. But the minute I joined the choir it gave me the strength to believe that I can do something really worthwhile with my life, I just think any things possible now'.
And Mr Jones added that his new calling has made his family proud:
'When we were on Britain's Got Talent my family were just so happy. My parents and my Nan and granddad just thought it was brilliant. And it made me feel happy that I've found something I love doing that can bring joy to my family'.
Next year, the choir which is funded by charitable donations, will embark on their first tour of the UK.
And to celebrate the end of a successful year they will be teaming up with their adult counter parts Only Men Aloud with a special Christmas Eve concert at Cardiff's prestigious Millennium stadium.
Speaking about their incredible year, Mr Rhys Evans said that rolling out more choirs across the UK could make a difference to many more young lives.
He said: 'I would love to create more choirs and help other boys around the country who might be faced with a dead end in terms of their prospects.
He added:
'Music is a wonderful thing, not only is it very sociable but it also encourages discipline. I think many of the members of Only Boys Aloud would say that their lives have changed as a result of the choir and I've love to make that a reality for more young people'.
YOU MIGHT ALSO LIKE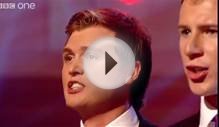 Only Men Aloud! Cwm Rhondda - Last Choir Standing Final ...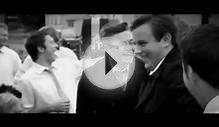 Only Boys Aloud Advert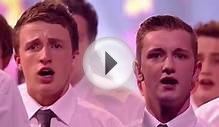 Only Boys Aloud Final [HD] Britains got talent 2012
Share this Post
Related posts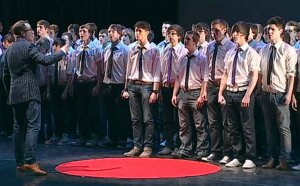 DECEMBER 01, 2023
Ryan Howell, 18, (left and right) who came third on Britain s Got Talent with his choir, has died of bone cancer Only Boy…
Read More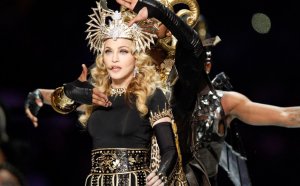 DECEMBER 01, 2023
How do I design costumes for my show choir competition set? The rehearsals and performances never stop for show choirs! Holiday…
Read More