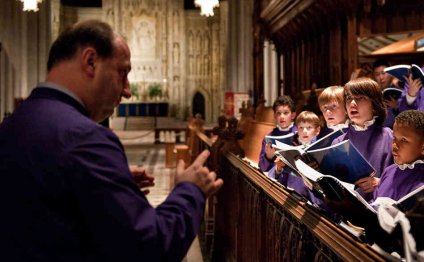 National Cathedral Choir
The tradition of the men and boys choir is most often associated with Britain, where it is maintained more fervently than anywhere else. One of the exemplars of the genre, the Choir of Westminster Abbey, began a U.S. tour Wednesday night at the Washington National Cathedral. The concert marked the opening of the cathedral's three-part British Choirs Festival, which in the spring will feature the choirs of King's College, Cambridge and St. Paul's Cathedral, London.
When one sees such a choir in an evening-darkened cathedral, it usually is for the prayer service of evensong, but the concert setting meant that the choristers wore their bright red cassocks without the white surplices reserved for liturgies. Even so, the program offered mostly liturgical music, including three pieces that the choir sang at the wedding of Prince William in 2011, with two anthems by Hubert Parry — "I Was Glad" and "Blest Pair of Sirens" — representing the glory of Edwardian royal ceremony. Works by contemporary composers carrying on the choral tradition, including David Matthews, Jonathan Dove and Paul Mealor, gave evidence of its continued vitality.
All of the pieces were performed attractively, but the placement of the choir in the cathedral crossing, without a resonating surface behind it, limited the effectiveness of its sound and revealed a few strident qualities in its voices. The boy trebles, a good score of them, produced their most limpid tone in the gravity-defying descant of Herbert Howells's "Like as the Hart." In two interludes, organist Daniel Cook took advantage of the breadth of tone color and antiphonal possibilities of the cathedral's organ. In the end, my longing for evensong was satisfied by the twilit encore, Gustav Holst's setting of the "Nunc Dimittis, " the Latin canticle for the nighttime service of compline.
YOU MIGHT ALSO LIKE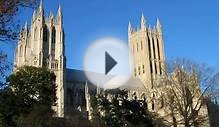 Palm Sunday 2010 - Washington National Cathedral - Choir ...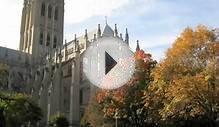 National Cathedral Boys Choir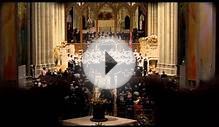 Mike McCarthy - National Cathedral Choir
Share this Post
Related posts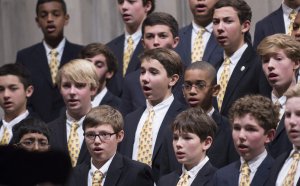 DECEMBER 09, 2023
Music Director J. Reilly Lewis, a native of Washington, D.C., began his musical career at the age of eight as a member of…
Read More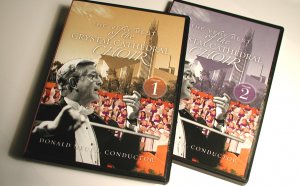 DECEMBER 09, 2023
1 of 7 Jim McDonald, right, is leading a group of Crystal Cathedral members in putting on A Tribute to Don Neuen. With…
Read More