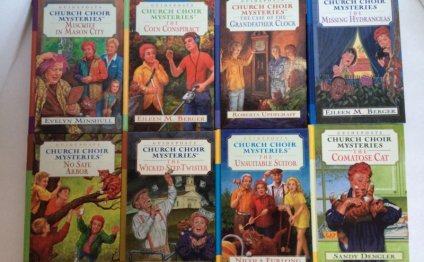 Church Choir Mysteries
Gracie Parks, when we first meet her, is a five-foot-four red haired widow aged 60 plus, who lives in Willow Bend, Indiana, and still much misses husband, Elmo, who had been killed in an accident five years before. She is an enthusiastic member of the choir at Eternal Hope Community Church, of which she was to became assistant choir director. She also teaches at Sunday School. She has a son, Arlen, but he and his family live in New York so, in his absence she had offered a home to old Uncle Milty. She also looks after a seven-year-old cat called Gooseberry. She "liked preparing meals and planning parties" and much enjoyed reading mystery stories for, as she points out, "A good mystery is refreshing; in what other genre can you routinely find right triumphing over wrong in today's world?" She is much motivated by her religious beliefs and, as Uncle Miltie tells her, "You're one terrific friend to many people."

Eileen M(ae) Berger (1927 - 2011) held a Bachelor of Science degree from Bucknell University and a Master of Science from Temple University and was a medical technologist for 25 years. She was a deaconess at Hughesville Baptist Church where she was a Sunday school teacher and sang in the church choir. She became president of American Baptist Women. She also taught in workshops, colleges and writers' conferences. In addition to The Highly Suspicious Halo, reviewed below, she wrote three further books in the Choir Mysteries series and some nine other books. She was the mother of three grown children (one of whom became a pastor), and lived with her husband Robert in Hughesville, Pennsylvania, where they ran a "Choose-and-cut" Christmas tree farm. Her husband had previously been a pastor for many years at Hughesville, Pennsylvania, but we are told that, "None of Eileen's real-life situations are reflected in her books, which are entirely fiction".
There is hardly anything about the author on the web beyond an obituary page. A list of her books can be found on the fantasticfiction site

Nicola Furlong (1957? - ) was born in Edmonton in Canada and raised in Saskatchewan, Ontario and Prince Edward Island. She was awarded a BA in Fine Art and Psychology at Carleton University. She then worked for the Federal Government in Ontario/Quebec. She says that when she is not playing hockey, growing blue poppies or eating chocolate fudge, she "pens women's fiction and mystery novels, creates interactive children's books for the iPad, podcasts about genre writing, publishes ebooks and produces promotional book trailers." She is the author of six of the Church Choir mysteries (including The Angel's Secret, reviewed below), and has written guides to mystery writing, self publication and gardening. She admits to being a "shameless self-promoter", and modestly describes one of her books as "crackling with wit and suspense". She lives in Sidney, a small town on southern Vancouver Island, British Columbia.
She has her own and there is an informative article about her on the site.
Roberta ("Bobbi") Updegraff (1954? - ) says that, like Gracie, she loves homemaking and cooking. Born in Syracuse, New York, Roberta's childhood as a military brat was spent in Madrid, Spain as well as at Air Force bases in the United States. She has been married to her high school sweetheart for some 40 years and they have three children. She worked as a substitute teacher at Williamsport High School in Pennsylvania and taught everything from auto mechanics to orchestra. She is also a Sunday school teacher and volunteer youth leader and has done much work with Presbyterian Disaster Assistance. She wrote six of the Church Choir Mysteries, including The Baffling Bequest, reviewed below.
She gives inspirational talks and has her own . There is a list of her books on the site.

Church Choir Mysteries: The Highly Suspicious Halo (2000)The Highly Suspicious Halo (by Eileen M Berger) Is the first of 24 titles that appeared in the Church Choir Mysteries series, published by Guideposts between 2000 and 2006, written by three different authors, and apparently sold on a subscription basis.

It tells how Gracie Parks becomes involved in an improbable mystery in her own choir: Amy Cantrell, a 17-year-old choir member, suddenly becomes sick, possibly poisoned. So the church's prayer chain gets going. Soon Amy seems to be getting better - until she mysteriously disappears from the hospital. Gracie tries to get to the bottom of it, wondering if she had gone off with a mysterious boyfriend. The police too are involved, and chief Herb who was also a member of Eternal Hope Church, tells her, "I, personally, have being doing a whale of a lot of praying for her and for all of you – and suggest you do likewise." So we may be sure everything will be all right.

It is a truly cozy little story, complete with cute drawings of a cat at the start of each chapter, and a recipe page for Snickerdoodles at the end of the book, with Gracie ever conscious of "those many kernels of blessings all around her". When another widow tells her that she must get lonely, she replies, "If you mean missing Elmo (her husband who had died 5 years before), of course I do, and always will. But I don't wallow in it, dear friend. There are too many things in life – good things, I'll have you know – for me to lose out on if I allow myself to stay in the dumps!" So she remains relentlessly cheerful throughout. To her even decrepit old Uncle Miltie is "a lovable lump" and his presence in her house continues to be "a blessing". Her main worry is with conducting her church choir preparing for a singing contest against seven other churches. Their party piece is Help Me to See Thee, Lord which was actually written by the author herself. It includes the following distinctly awkward lines:
"In the beauty of your world and in a baby's smile,
Whether I am far away or at home for a while,
whether I am rich or poor, with pennies or a hoard,
YOU MIGHT ALSO LIKE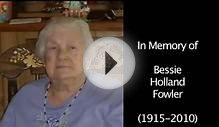 Mystery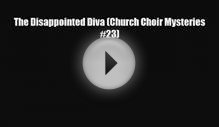 PDF The Disappointed Diva (Church Choir Mysteries #23) PDF ...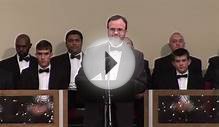 The Mystery and The Majesty - Lighthouse Baptist Church Choir
Share this Post
Related posts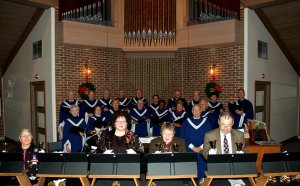 DECEMBER 04, 2023
Trinity Choir, under the direction of J. Owen Burdick, established itself as one of the pre-eminent professional American…
Read More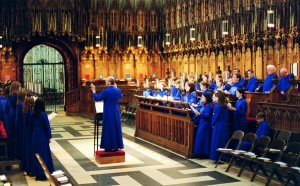 DECEMBER 04, 2023
Each choir is unique, embodies a different personality and has its own agenda in the music industry. But it is important…
Read More