Church Choir Director Jobs
The Choir Director prepares church choirs for services, and may be the only paid person involved in the church's music department. The Choir Director might also play as the Organist during services, aside from being in charge of the choir. Sometimes, the Choir Director serves as the Music Director who supervises others in the church's music department, coordinating their efforts.
Conducting and leading the choir includes holding auditions for those who would like to sing in the choir, while seeking potential members who would be group assets. The Director also looks for and auditions Singers to act as Section Leaders, Assistant Conductors, or Soloists. The Choir Director also schedules rehearsal times each week, and is responsible for leading rehearsals effectively.
The Director also chooses the music that will be used during services, ensuring it fits the sermon or special occasion. To maintain a good idea of the church's music, the Director is in charge of the church's music library, but they might hire a volunteer to act as Music Librarian in their place. The Choir Director looks over special programs, concerts and other church musical activities, planning, rehearsing and orchestrating to make sure they go off without a hitch. If anyone in the music department or congregation has a musical need, they will go to the Choir Director.
The budget is also an important responsibility of the Choir Director. After working out a budget that fits the needs of the music program, the Director presents it to congregation members for approval. This budget must take multiple funding areas into consideration, including choir robes, group music, special concert trips, and more.
To go along with his or her musical responsibilities, Choir Directors usually maintain office hours each week to work with groups of Singers, or the Church Organist. During this time, the Director might also write music, handle administrative chores, and more. In the scheme of things, the Choir Director works for a church committee or the church's Minister to take care of any music-related manners.
Daily Music Career Info! Follow Us.
Jobs. Career Articles. Quality Blog Posts. School Info, & More.
Salary
Choir Directors who are considered full-time will typically earn about $20, 000 or more per year. Sometimes, salaries increase to over $42, 000 per year for Choir Directors at large metropolitan churches with larger musical budgets.
Employment
Generally, Church Musicians face good prospects of employment. But to attain a major position, the Choir Director must have sound training. For instance, a degree in church music will be useful in landing a job, while a master's or doctorate in church music will set a candidate apart from the rest of the field. No matter the educational background, the Choir Director must be enthusiastic and maintain a positive attitude.
Advancement
Advancement for the Choir Director is fair and is all relative. For instance, one who holds a position in small church does not have much opportunity to advance, but if given enough resources, he or she can build a music department and hopefully gain positive recognition for the work they've done. However, Choir Directors in large metropolitan churches face more opportunity, and have more resources to build their programs up.
Education and Training
Most churches require at least a bachelor's degree in music with a major in church music. With that said, some churches require Choir Directors to hold a master's degree.
Experience, Skills, and Personality
An important skill is the ability to work within the politics of the congregational hierarchy because the Choir Director will be working very closely with these people from the time they start in their new position. Of course, the Choir Director must be familiar with liturgical practice, and should know about choral techniques; the ability to teach is essential. As mentioned, most Directors know how to play the organ and/or guitar.
Unions and Associations
The American Guild of Organists, the Choristers Guild, the American Choral Directors Association, the National Association of Pastoral Musicians, the Association of Anglican Musicians, and various other denominational groups are useful unions to be a part of.
Suggestions for Getting Started
Graduates of religious schools may register in placement centers that will advertise about openings and opportunities.
Talk to your church's Music Director or Choir Director to see if they have any openings.
Check audition requirements before you interview so that you can properly prepare.
YOU MIGHT ALSO LIKE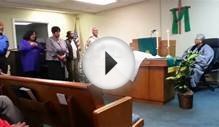 Better Than Knowing Jesus - Cain-Grant AME Church Choir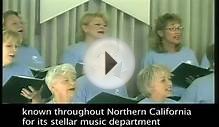 Wanted: Music Director for New Thought Church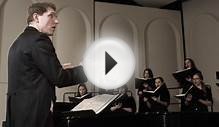 Information on the Choir (Choral) Director
Share this Post
Related posts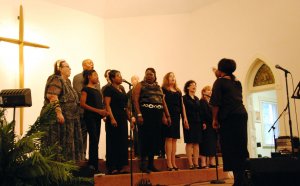 JUNE 09, 2023
Choral directors, also known as choir or music directors, often manage various aspects of the vocal, and sometimes instrumental…
Read More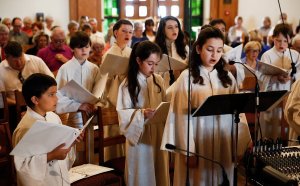 JUNE 09, 2023
On Saturday, September 13, 2014, new and returning members of the National Lutheran Choir gathered for their first rehearsal…
Read More