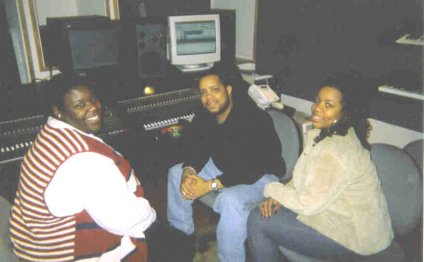 Wilmington Chester Mass Choir
Don't think of this as a performance, the Rev. Chris Squire cautions his audience as the ensemble he inherited launches into more than two hours of music, testifying, and prayer. It's a service. As the choir's founder, the Rev. Ernest Davis Jr., was so fond of saying, the glory of God is best conveyed through glorious singing.
The Grammy nomination is not only a first for the nearly 80-member nondenominational ensemble, it puts to rest doubts the group has wrestled with since Rev. Davis died in 1991 at age 39. With their forceful leader gone, how would they carry on?
Even in a group of the faithful, drawn from churches throughout New Jersey, Pennsylvania and Delaware, there were disbelievers.
The choir members - some with two decades of service - tell their story in a back room of the church, as they put on their yellow-and-black robes and wait to see who will show up.
Thirty to 40 of the unpaid vocalists - who range in age from their 20s to well past retirement - typically make it to local events. Between work and other responsibilities, "we never know who we have until they stand up and sing, " says Hickerson, the music director and keyboardist.
Last month, the good news came in a phone call from a friend of the Rev. Squire's with the Mississippi Mass Choir, whose Emmanuel (God With Us) is nominated in the same Grammy category. Moments later, the choir's label, Atlanta International Record Co., called to confirm: What were the Rev. Squire and his people doing Feb. 23? Their latest record had landed a Grammy nomination.
Says the Rev. Squire: "Every time we called someone to tell them the news, it was, 'Uh-uh. You're lying.' "
They recorded Hosanna! - more than 75 voices this time - on April 3 in the auditorium of Chester High School. "The whole feeling of that choir that night was special, " says Patricia Loper, an alto who serves as the group's chief operating officer.
It was the evening before Easter. After losing an hour of sleep to Daylight Savings Time, they would be getting up early to sing at a breakfast service.
"The choir had been going through some changes, a lot of internal stuff, " says the Rev. Squire, 40, who is an associate minister at Antioch Baptist Church in Camden. Someone's father had died; another had lost a sibling. "As we were robing up, we got into a room in the back and we had a prayer. The choir was so prepared. They let God do what he had to do."
The performance was so inspired, the Rev. Squire says, that the choir went back into the studio only to re-record the clapping on one song.
They chose 10 pieces for the CD, their sound a blend of traditional and contemporary, with a big, slapping bass, deep rhythmic groove, splashy horns, bluesy piano fills - and a touch of Parliament/Funkadelic.
Their mission was clear. "We knew we were going to have church, " drummer and coproducer Howard Kennedy says. "We wanted to stay in the church world."
Kennedy, 34, typically finds new songs and brings them to the group to try. If there is an emotional and spiritual connection, Hickerson, 35, tinkers with the arrangements to tailor them to the choir's three voices: alto, soprano and tenor.
Hickerson is the most gifted musically, and Kennedy has the critical ear, says the Rev. Squire. "I bring them balance, " he explains.
The Rev. Squire joined the choir in a managerial role in 1989. He was station manager of WDAS-AM/FM and had hired the Rev. Davis, who founded the choir in 1978, as a part-time gospel disc jockey. A church singer since his boyhood in Chicago, the Rev. Squire joined the choir the next year, and his behind-the-scenes role increased.
"Everyone wondered just what I was doing, " the Rev. Squire says. But the Rev. Davis knew. He was ill for a year and a half before he died in October 1991; he was setting the stage for a painless transition.
The Rev. Davis was known for his charismatic drive. "If he called you to do something - if it was 2 or 3 in the morning - you would do it, " the Rev. Squire says. " 'Why am I going to come down to Chester and bring you some fried rice?'
"He was probably one of my better friends, but it didn't start out that way. We had some words. He knew what he wanted. He was a bossy-type person."
Business manager Maxine Stroud hears this and smiles. "He's a bossy-type person as well, " she says, nodding the Rev. Squire's way.
"Rev. Davis was a perfectionist, " Stroud goes on. "He didn't take anything less. If he had to keep you in rehearsal until 2 in the morning, you stayed. You gave him what he wanted."
His choir members could wear no flashy jewelry. They were not to move around once they arrived in the sanctuary or even at rehearsal. There was an emphasis on diction, so the message would be heard.
That message? "That Jesus Christ is lord and savior to us, " the Rev. Squire says. "If you turn your life over to Jesus, your life will change."
The Rev. Davis died five days after telling the choir that the Rev. Squire would succeed him. The Rev. Squire was at the hospital that day with three other ensemble members. They were to sing that night.
"We decided we'd sing first, then tell the choir, " he remembers. "We walked in, but our eyes were red and teary."
"You didn't have to say a word, " says Loper.
"Most of us knew that Rev. Davis' dream was to reach the Grammys, " Stroud says. "We just worked hard."
"If he could see us now, " says soprano Kaye Warner, "he'd be all teeth."
The Rev. Davis' picture, beaming smile and all, graces most of the choir's publicity materials. In his honor the group is now formally known as The Rev. Ernest Davis Jr.'s Wilmington Chester Mass Choir.
About 20 members of the group will travel to Los Angeles for the Grammy ceremony at the Staples Center. No broken-down vans or school buses this time. They're flying.
The Rev. Squire says he will not be going to any parties or special events.
Too worldly?
"No, I'm going to eat, " he says. "I'm going to Roscoe's Chicken & Waffles, then I'm going to Aunt Kizzy's Back Porch for soul food, then I'm going to Gladstone's 4 Fish on Sunset Boulevard."
YOU MIGHT ALSO LIKE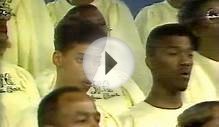 Rev Ernest Davis Jr & The Wilmington Chester Mass Choir ...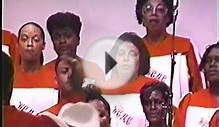 Wilmington Chester Mass Choir, "At Calvary"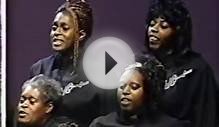 The Wilmington Chester Mass Choir
Share this Post
Related posts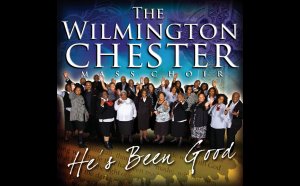 OCTOBER 01, 2023
Hosanna: And They Sing the Word CD music Product Description Hosanna: And They Sing the Word album for sale by Wilmington…
Read More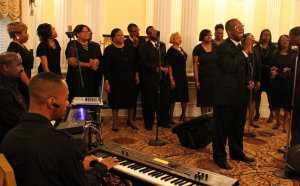 OCTOBER 01, 2023
Jason T. Clark gets a little emotional when he talks about his mother and her arduous job of corralling a group of singers…
Read More