Handbell Choir Music
Utilizing the techniques of plucking in the bass, mallets on inner voices, and introducing harmonic changes and added triplets in the melody, Cynthia Dobrinski has cleverly captured a sense of the traveling wisemen on their journey. This well-crafted 3-5 octave arrangement is both artistic and accessible, making it a must for everyone this Christmas season. 3-5 oct.
This Kevin McChesney setting is an uplifting arrangement reflecting the Easter text Now the Green Blade Riseth. The choral setting of the beloved French Carol, NOEL N OUVELET, includes both the words to the original Christmas carol, "Sing We Now of Christmas" and J.M.C. Crum's words for Easter. The handbell setting uses 3-5 octaves of bells and has driving rhythmic energy . (more)
2 oct.
This festive original composition by Barbara Kinyon would make a great opener for a concert, as well as an ideal opening selection for the beginning of a worship service. Available in a 2-3 octave setting and a new version for 3-5 octave choirs. 2-3 oct.
3-5 oct.
For Levels 1-2 2-5 oct
3 oct.
This reflective, original composition by Howard Starks is one of the gems in the Agape catalog. New for 2007, we offer an expanded 3-5 octave setting with optional 3 octave handchimes. The title references the 23rd Psalm where it says "He leadeth me beside still waters, " and in order to capture the soothing, peaceful mood of the piece, ringers should take . (more)
For both 2 octave and 3-5 octave handbells.
Two-Part or SAB choral anthem. Also available is a 3-5 octave handbell arrangement w/opt. 2-4 octave handchimes by Martha Lynn Thompson that can be used to accompany the choral settings or stand on its own.
For Levels 1-2 2 oct.
The stirring Beethoven "Ode to Joy" has been set for various mediums. It is with rhythmic vitality, well thought out harmonic changes and effective use of bell techniques that Michael Keller offers this setting of the tune "Joyful, Joyful, We Adore Thee" for English handbells. The arrangement is workable as a 3-5 octave bells only selection or can be performed with . (more)
Five Easy Celebrations contains five short fanfare-like works written for use by younger choirs through senior adults. All are original compositions appropriate for school music programs, worship, weddings, and other festive occasions. They are great for giving any choir a successful experience! 3-5 oct.
Kevin McChesney's handbell settings of this title are top-sellers in the Agape/Hope catalog. New for 2010 he offers a setting of this classic hymn for SATB choirs and keyboard. Both the 3-5 octave and 2-3 octave settings for handbells can be used as optional accompaniments to the voices. The energetic forces, created by the rhythmic use of mallets accompanying this powerful . (more)
For Levels 1-2 3-5 oct.
For 2-3 octave choirs Barbara Kinyon has provided this mini-collection of three short settings of classic hymns of thanksgiving: "Come, Ye Thankful People Come, " For the Beauty of the Earth" and, "We Gather Together." Each setting is well crafted and full of interest, yet not difficult. 2-3 oct.
Dan Schutte's "Here I Am, Lord" is clearly one of the most popular new songs to emerge in recent years and come into wide use. Arranger Arnold B. Sherman has crafted a tasteful, transparent 3-5 octave setting that both stands on its own and can serve as an accompaniment to his SAB and SATB choral settings. The keyboard accompaniment is equally . (more)
YOU MIGHT ALSO LIKE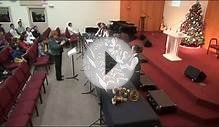 20131213 Langley Community Music School Handbell Choir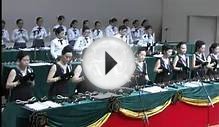 하얀연인들-handbell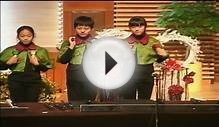 HD Majesty Give Thanks Music Bell BPMC Handbell Choir ...
Share this Post
Related posts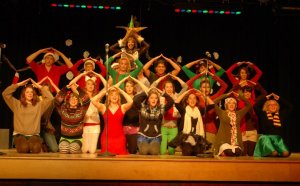 DECEMBER 04, 2023
Calling all 9–16 year olds who love to sing, dance, and act to join the Show Choir Camp! Musical rehearsals, vocal coaching…
Read More
DECEMBER 04, 2023
Ed. note: Today we are pleased to present a guest post from Kimberly Sena Moore, MM, NMT-F, MT-BC. Kimberly is a board-certified…
Read More