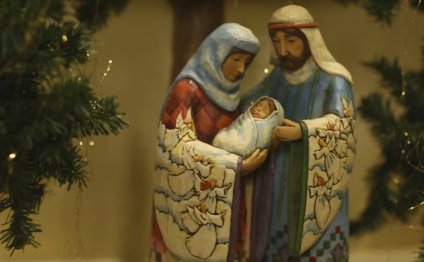 Mormon Tabernacle Choir music Video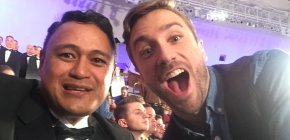 I was very excited when I heard the announcement of a virtual choir singing Handel's "Hallelujah" chorus. The thought of joining people from around the world in this project seemed amazing. It's one thing to sing to an audience but something quite different to have the audience sing back with you. I was so glad I could be a part of it.
George Frideric Handel composed in 1741. Over two centuries later it continues to be performed around the world. I wonder if Handel knew how influential this work would become after it was first performed. The virtual choir, I'm sure, is something he would have never imagined.
Filming for the virtual choir was a unique experience. Choir members become used to cameras and lights because of the weekly broadcast; however, this project was completely different. The scale of this project was much bigger than anything I have done with the choir. Filming involved a large crew of people working on lighting, sound, cameras, and makeup. There were more cameras in the Tabernacle for this event than I have ever seen before—two large boom cameras, a few dollys, and a few handheld cameras moving through the Tabernacle with ease. Everyone worked quickly to get all the shots necessary for the video.
It was a long and enjoyable day. Filming began at 10:00 a.m., right after the broadcast. Volunteers joined choir members in the loft. During short breaks while the crew adjusted lights and cameras, I visited with some of the volunteers around me. These volunteers came from all over the world. I met a young man who had just moved to the United States a few weeks earlier. I also met a college student trying to figure out what to do with his life. I also met YouTube celebrity Peter Hollens, who joined us for this event.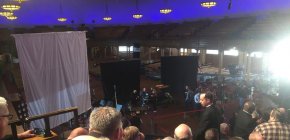 It is tradition for people (the audience) to stand whenever the "Hallelujah" chorus is performed. Well, true to form, during the filming for the virtual choir of this chorus there was a lot of standing.
What most people probably don't know is that the choir participated in a weeklong marathon of concerts and recordings that ended the night before filming, so we were tired. Yet this project was energizing. Despite having started my day at 5:30 a.m., I was energized by the people around me. Filming ended at around 4:00 p.m.
An amazing thought occurred to me during filming. As I was watching the crew film the women singing, I sat there and listened to the beautiful angelic sound. I thought about the different generations since Handel that have sung this beautiful piece. I thought about how, for this one moment, the world would be singing it together. It's really neat.
Over two centuries after Handel composed Messiah the world is still singing, still standing, and still being moved by Handel's beautiful work. This virtual choir, with members from around the world, will be unified with one voice and one purpose. It's amazing. What would George Frideric Handel say to all of this? I can only imagine that he would say, "Hallelujah!"
YOU MIGHT ALSO LIKE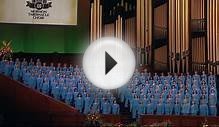 Betelehemu - Mormon Tabernacle Choir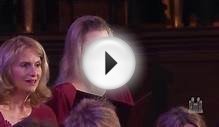 Love One Another - Mormon Tabernacle Choir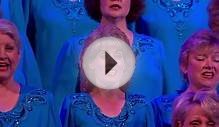 One December, Bright and Clear (Music Video) - Mormon ...
Share this Post
Related posts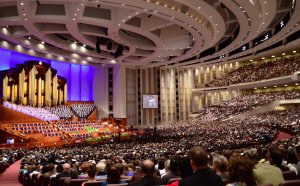 DECEMBER 04, 2023
For more than eight decades, nearly the lifetime of radio, the Mormon Tabernacle Choir has presented a weekly program — Music…
Read More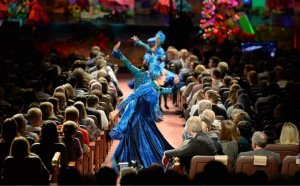 DECEMBER 04, 2023
Christmas with the Mormon Tabernacle Choir Featuring Santino Fontana & the Sesame Street Muppets Holiday Specials…
Read More